Having an Opinion
The content marketing agency Animalz recently summarized the success of the product review site The Wirecutter: it offers an opinion. It's the difference between 10 Best DSLRs for 2020 found elsewhere online compared to their singular recommendation of The Best DSLR for Beginners.
In enterprise software, various tools have emerged which take opposite sides of this issue. Some are opinionated stressing how things should be done, while others are flexible allowing users to chart their own path.
The rise of prosumer software like Notion and Airtable has empowered a category of creators who have been able to build whatever they want, however they want. Users can customize and tinker to their hearts' content.
There are plenty of benefits to these flexible tools. Users can build things out to exactly fit their use cases. They can replace all their tools with one and save money. It's wonderful and leads to many of the characteristics that investors say they love: bottoms-up acquisition, strong upsell given potential to spread across departments, etc.
But a recent post from Harry Keller at Diesdas Digital looking at Notion crystallized some of the real day-to-day issues that flexible tools face:
Notifications become useless - when one tool contains everything, there is no associated context to easily triage them (e.g. a change to a contact in a CRM tool is treated the same as a bug in a development story)

Lowest common denominator design - maximum flexibility means that the UI needs to be generic enough to handle anything thrown in there

Encourages busy work - tweaking the tool to achieve the elusive "perfect setup" consumes time that should be spent doing the work itself
Put succintly, Harry argues that Notion is a jack of all trades and master of none.
There has been a crop of newer companies which have started in the last few years that are hyper-focused on specific use cases like Linear for issue-tracking, Ally for OKR tracking or ChartHop for org chart management. They are opinionated. Their strength comes from the degree to which they are able to customize their value proposition to the end use case whether on pure functionality or methodology.
They can guide users through the critical path since the UI and UX of these tools are designed for their specific use cases. There are native integrations to key data sources like Github, Salesforce and ADP which allow for less time spent modifying or updating tools and more time spent doing the work. The tools are designed to handle all the edge cases which advanced users need which also benefits the beginners who are able to grow into that functionality when the time comes.
And lastly, they offer an opinion to users on how to use the software for maximum success. Linear espouses their method for building software which is as granular as specifying that companies should write changelogs, Ally provides coaching on how OKRs should be rolled out to an organization and ChartHop emphasizes that org chart planning is an ongoing process not a one-time event.
Of course, Notion and Airtable offer issue-tracking, OKR and org chart templates, but users are left to their own devices to string in data integrations with Zapier or figure out how to best utilize the tools within the organization.
It's easy to find zealots on both sides. Some might argue that certain functions like developers or designers will never switch to flexible tools since they demand the structure of opinionated tools, while others say that those groups may want flexible tools to build out their own ideal workflows.
Their unofficial motto may as well be "in users we trust." The underlying philosophy is that empowering users will lead to great outcomes. Opinionated companies can't match the blank canvas offered by Notion or Airtable by design nor do they aspire to.
I think there is a middle ground that reflects the interaction between these two categories. My view is that flexible tools like Notion or Airtable will have always have a place (just like Excel does), but teams will eventually graduate to opinionated tools built for a specific use case. In some ways, the flexible tools are the best way to prototype whether opinionated software is worth purchasing.
Teams can ask themselves: are we happy with running OKRs in Notion? If yes, great! If no, let's look at Ally or another OKR specific tool to solve our issues.
It is perfectly possible that teams will never graduate from a flexible tool to an opinionated tool simply because their use case is not complex enough to warrant it.
Flexible tools like Notion and Airtable have already started tackling some of the issues that forces users to switch to opinionated tools as complexity increases. For example, Airtable offers blocks for analyzing, visualizing or formatting data.
Flexible tools can delay their users' graduation to opinionated tools through the addition of features that lower the cognitive load on the user to figure out how to pull everything together to get their desired outcome. These include an API to allow for third party developers to build out functionality, templates, native data integrations (Zapier is robust, but remember that opinionated tools have out-of-the-box integrations) and better notifications infrastructure.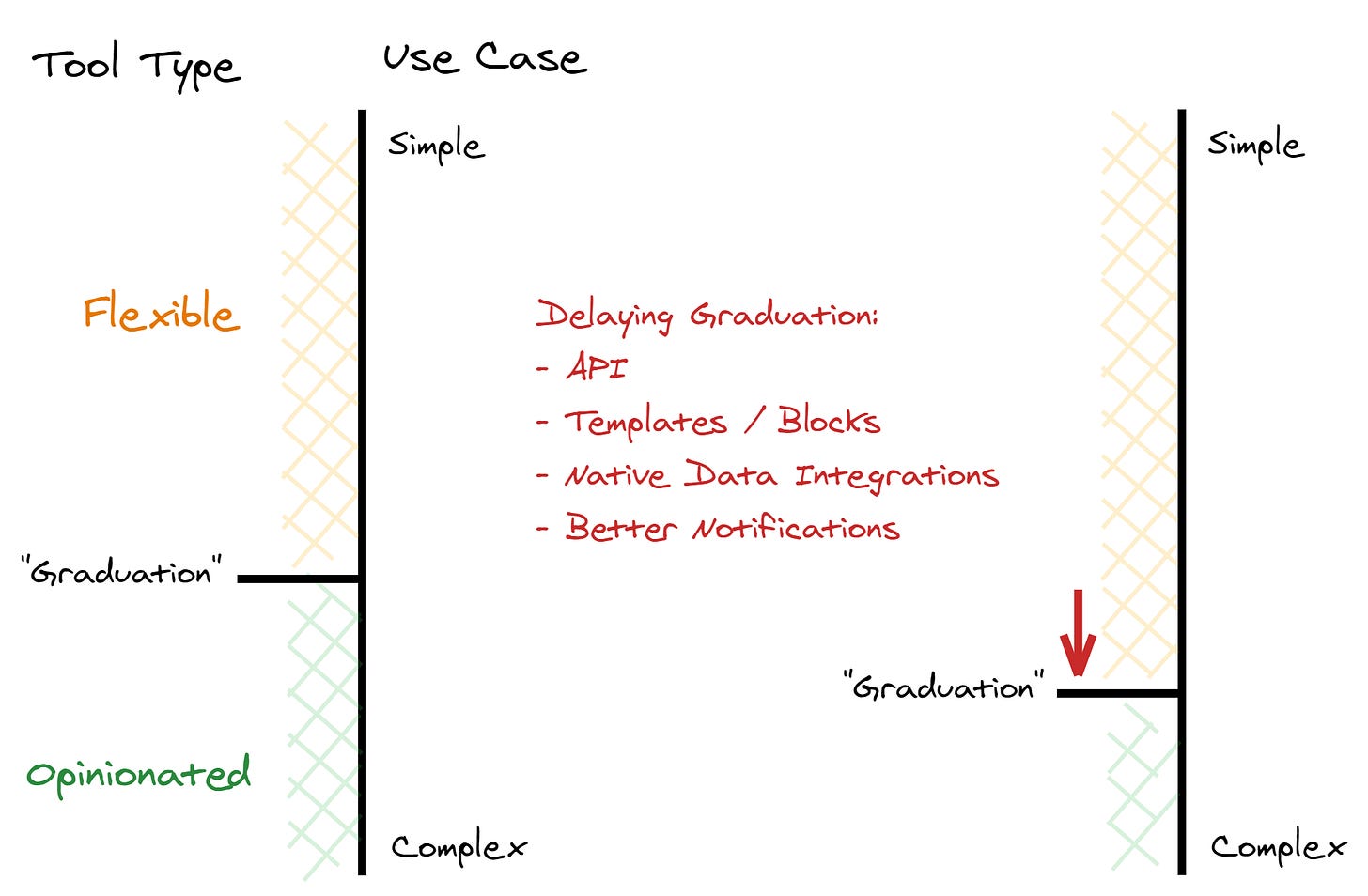 On the flip side, opinionated tools can capitalize on their advantages by emphasizing native data integrations, ease of use, no maintenance and robust functionality for advanced use cases.
My takeaway is that it does not make sense to try to crown a "winner" between opinionated and flexible tools since they are complementary. They each have their own use cases which are a natural part of the adoption journey. Both companies building products and end users using these products can stand to benefit from thinking more deeply about the right tool for the right job.